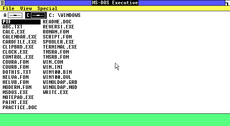 Windows 1.0 is (as the name suggests) the first version of Windows released by Microsoft. Windows 1.0 was released to the public in 1985.
Originally, Microsoft started work on a new graphical environment for MS-DOS-based personal computers, known as "Interface Manager". This environment would include support for existing MS-DOS-based applications, as well as GUI applications that were specifically designed for the new environment.
Later, at COMDEX 1983 in November, Microsoft demonstrated a new upcoming product, "Microsoft Windows", running on a personal computer with monochrome graphics, and with various applications running alongside each other in "windows".
During the course of its development, several pre-release versions of Microsoft Windows were also made available to testers and developers, including a "Developer Release 5" from around November 1984, as well as later pre-release versions such as those from 1985-01 (Alpha), 1985-05 (Beta), and Premiere Edition in 1985-07.
A final preliminary release, Premiere Edition (1.00), was released to a group of users for testing Windows prior to its release. Windows 1.01, released on 1985-11-20, was the first version of Windows to be released to general availability, whereas several more versions, Windows 1.02 and Windows 1.03, were released as more changes were made to Windows, up to, 1.04, which was released in 1987-04, the latter of which also added support for the newly introduced IBM PS/2 series of personal computers which was released at that same time.
According to Microsoft, Windows 1.0 is a 16-bit "Operating Environment" designed to run on top of MS-DOS, and is not a standalone operating system. Microsoft would later port many of the technologies developed in Windows to develop a standalone OS called Windows NT.
Several versions in other languages, such as Windows 1.03 in German and French and Windows 1.03 Japanese for the NEC PC-9801, were also released, as well as OEM versions such as a version of Windows 1.01 for Zenith personal computers, as well as versions of Windows 1.03 for Olivetti and Siemens machines.
This also Replaced to Windows 2.0x
Development
Development of Windows started as early as 1983, when Bill Gates felt the danger of rival companies like VisiCorp, which started to make their own graphical systems to handle multi-tasking apps. At first, it was intended to be called Interface Manager, although later the name was changed to Windows. The developement had gone through a reset when the Mac was released. Before it, developers had more-or-less a free hand on how the OS will look. However, once the Mac was available, the task was made clear and simple: "Copy it!".
Builds
Pre-DR5

Microsoft Interface Manager Internal Test Release #3

Microsoft Windows "InfoWorld" build

Microsoft Windows 1.0 Development Release #1

Microsoft Windows 1.0 Development Release #2

Microsoft Windows 1.0 Development Release #3

Microsoft Windows 1.0 Development Release #4
Pre-release

Microsoft Windows Beta Release

Microsoft Windows Codename Pegasus Version 0.99

Microsoft Windows 1.01 RC (10-21)

Microsoft Windows 1.01 RC (11-14)
RTM

Microsoft Windows 1.00

Microsoft Windows 1.01

Microsoft Windows 1.02

Microsoft Windows 1.03

Microsoft Windows 1.03.08

Microsoft Windows 1.04
MS-DOS Executive Year Date
As you can see, The Year Date by over 1999 (99), Originally it was now 100, Similar as 2000.
Following as year date shows included over 100:
2000 = 100
2001 = 101
2002 = 102
2003 = 103
2004 = 104
2005 = 105
2006 = 106
2007 = 107
2008 = 108
2009 = 109
2010 = 110
2011 = 111
2012 = 112
2013 = 113
2014 = 114
2015 = 115
2016 = 116
2017 = 117
2018 = 118
2019 = 119
2020 = 120
2021 = 121
2022 = 122
2023 = 123
2024 = 124
Trivia
Did you know...
It was the longest supported version of Windows by Microsoft? It was supported for 16 years, until 2001-12-31
When Windows 1.0 tries to show a date later than 2000, it actually shows it as 100? Similarly, 2019 -> 119 (on MS-DOS Executive)
This is the only OS by Microsoft to not have overlapping windows on the desktop, this was due to Apple copyrighting the overlapping windows UI
And... IT'S JUST NINETY-NINE DOLLARS!