Obi-Wan Finale - The Loop
Play Sound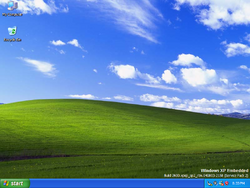 Windows XP (codenamed Whistler) is an operating system developed by Microsoft, released to manufacturing on 2001-10-25 and general availability on 2001-10-25. It is the sixth operating system in the Windows NT operating system line, succeeding Windows 2000 and preceding Windows Vista. It also succeeded Windows Me after the end of the Windows 9x kernel. It is one of Microsoft's longest lasting operating systems, with almost 13 years of support (both mainstream and extended) and still run on 0.51% of desktop and laptop computers worldwide as of January 2021[1]. It i2s also the last client version of Windows that supports computers without ACPI.
Although extended support ended on 2014-04-08, a total of three out-of-band updates were serviced to the operating system fixing the following issues:
a high-risk Internet Explorer vulnerability; released in 2014
mitigations for the ETERNALBLUE SMB vulnerability, notably used by the WannaCry ransomware; released in 2017
mitigations for the BlueKeep RDP vulnerability; released in 2019
After Windows Embedded POSReady 2009 extended support was ended, this was lost its remaining support on 2019-08-31.
Main changes
User interface
Windows XP got a major UI overhaul during development, with the introduction of Themes. Users could change the way windows and buttons looked with the new visual style, Luna. It had three color schemes, which were based on blue, green and silver. Users could still select the Windows Classic theme from previous versions of Windows (98, 2000, ME, ...), and customize the preset Windows Classic color schemes.
The introduction of ClearType, an anti-aliasing font function allowed easier text reading on desktop computers with LCD-TFT monitors and laptops, but also had an effect on CRT monitors.
The taskbar is locked by default for new user accounts, to prevent accidental resizing or moving of the taskbar and/or the toolbars. Multiple instances of an application are grouped automatically and inactive tray area icons are hidden automatically, to prevent cluttering of the taskbar.
Editions
Starter: This version was intended for emerging markets, and was introduced in 2004, meant for low-cost PCs. It cannot launch more than 3 programs at a time and won't recognize more than 512MB of RAM.
Home Edition: This edition is for home and personal users who don't need to use corporate network, security, and management features (such as joining domain networks, file encryption, Remote Desktop Connection, group policies, etc.) This version can address up to 4 GB of RAM, and it only supports a single physical processor (though multiple cores and threads are supported).
Personal: Same as Home Edition.
Professional: This is the mainstream high-end version, sold along with the Home Edition. It supports up to 2 physical processors.

Windows XP 64-bit Edition: This was a special edition for Itanium-based computers. There were two releases, first of which was based on Windows XP and the second of which was based on Windows Server 2003.
Windows XP Professional x64 Edition: This was the version for x86-64 processors based on Windows Server 2003.

Media Center Edition: This version is especially for Media Center-based PCs, and is not sold normally. System requirements are significantly higher than in other editions. This version includes Media Center and new themes and Microsoft Plus! features such as

Energy Blue

.
Embedded: This version is intended for the embedded sector.
Tablet PC Edition: This version was included in tablet computers from 2002-2006. This is the tablet-optimized version of Windows XP.
N, K and KN Editions: The N version was made for the European markets and did not include Windows Media Player; the K version was made for the South Korean markets and included two shortcuts to Korean websites offering media player and messenger software by default, after a South Korean Fair Trade Commission ruling. The KN edition is the Korean counterpart to the N edition.
Reduced Media Edition: Identical to the aforementioned N editions. It was the initial branding given to the version before the European Commission had ordered Microsoft to change the name as it was deemed not appealing to consumers.
Improvements
Visual Styles: A theming engine was designed by Microsoft which included the new

Luna

interface. The previous placeholder theme,

Watercolor

, was replaced in later versions of the operating system.
XP Embedded Studio
The Windows XP Embedded includes some Software added, Otherwise if you are a Beginner User, you might try find Tutorial for creating Image for Windows XP Embedded.
Live CD
As Something about Windows XP in Live CD, it was named BartPE, Officially it was Discontinued.
See Live CD that be able work.
About Mod Edition
The Unattended for this OS can using nLite, Some Persons many created Project to creating Windows XP Mod Editions, such as Removal Components, Integrate Drivers, Add-ons, Updates, Slipstreaming Service Pack.
Mod Edition does not include for BetaArchive, it was Forbid by James (Ranma-Chan), It does only uploading on any websites such as Mega, Mediafire, etc.
Myths and Legends
No builds of Whistler ever used or even included the widespread startup and shutdown sound. The fake startup sound was made using Windows 98's shutdown sound reversed, Windows 2000 Build 1983.1 to Build 2000.3's startup sound reversed, and the Next Level sound from a game titled Spring Weekend included in the Microsoft Entertainment Pack, while the shutdown sound came from BeOS albeit downsampled.
In reality, all builds up until 2485 uses the same sounds as Windows 2000 and Me. Build 2481 introduced the sounds used in the final release, but they were not used by default at the point.
Source Code Leak
On September 2020, the source code of Windows XP Service Pack 1 and Windows Server 2003 leaked on 4chan's /g/ board. As mentioned on the original post, this had been circulating in private circles for several years at most. Due to the incompleteness of both source codes, primarily on the activation side of things, it is fair to assume that this had originated from a Microsoft Partner who had the access rather than Microsoft themselves. The ability to glance into the groundwork of this operating system has led to some discoveries, an example being the checks for enabling the DirectUI-based Start Page from shell\explorer\tray.cpp being usable in Build 2410.
Builds
Here are the Major Builds for Windows XP, As Starting Build 2202, Probably it was First Build for buildtag ntvbl06.
Alpha
There has been a debate whether this build is actually a post-RTM build of Windows 2000 Professional or an actual Windows XP alpha.
Technical Beta, pre-Beta 1
Beta 1, post-Beta 1
This build gave the UI a major overhaul, dropping the Professional theme and introducing the Luna style.
Beta 2, post-Beta 2
This build marks Beta 2, and was available publicly to Windows XP Preview Program subscribers.
RC1, post-RC1
This is the build distributed to Windows XP Preview Program and MSDN subscribers as RC1.
RC2, post-RC2, RTM
This is the build distributed to Windows XP Preview Program and MSDN subscribers as RC2.
This build was actually intented to be build 2545, but forked in a later decision. It has been sent for manufacturing on 2001-08-24.
This particular, post-RTM build is no different from the original RTM build, except for the addition of Toshiba's USB 2.0 driver support.
Service Pack 1 betas, SP1
Service Pack 2 betas, SP2
Service Pack 3 betas, SP3
Post-RTM
Not to be confused as Windows Longhorn early build. However it is Pre-RTM which it was modified from Server 2003 Base.
Service Pack 2 Updates
Service Pack 3 Updates
These are Service Pack Updates are included by downloaded Official Microsoft, using Windows Update or Microsoft Update. It also possible can be downloaded POSReady 2009 Updates that can be downloaded.
There is 2 Types Release update is included:
GDR (General Distribution)

These binary marked as GDR contains only security related changes that have been made to the binary, including changes that are relevant to this build of the file and from any earlier security hotfix that updates the same binary.

QFE (Quick Fix Engineering)

This binary marked as QFE/LDR contains both security related changes that have been made to the binary as well as any functionality changes that have been made to it, including changes that are relevant to this build of the file and from any earlier security fix or bug fix that updates the same binary.

LDR (Limited Distribution Release)

Same as QFE, but it only Works on Windows Vista to Windows 8.
- This is the Most Old Buildtag Date since after XP SP3 is Released in 2008-04-21.
- These are Ported from Embedded POSReady 2009, some files are included such as logon.scr, user32.dll.
Official Windows Virtual PC
The Official Virtual PC for Windows 7 is named Windows XP Mode.
As the Optional i386 Folder is included on Drive C, Somehow it only uses 130GB Size for Free Space.
The i386 Folder includes many not added components, following:
Internet Information Services
64-Bit Edition
This version is the 2003 version and uses the Server 2003 codebase.
Mod Editions
Windows XP does included Mod Editions, some Authors was Created since Between Persons are living in Worldwide (Such as Italian Country).
Many some Updates that included, it will fixes some Bugs and Add-ons Programs.
Bariski
Bariski is the Project was called Awesome Edition Reloaded, Lot String has been Changed and it was uses Resource Hacker.
In Explorer.exe, the String "Click here to begin" has changed to "Bariski's Groovy". at Winver.exe, the String Copyright has changed until Limits in 2020.
Greifi Grishnackh (Unattended Windows Project)
2008
2009
iCharge
MoZarD
Catalogk
eXPerience
Mahmoud
LuxLOL (Ramsey)
References