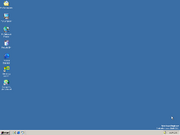 Microsoft Neptune is an unreleased version of Windows. It was identified as NT 5.5, and was intended to be the first consumer version of Windows NT. However, it was scrapped, together with Odyssey (the planned successor to Neptune) and replaced with Whistler (Windows XP). As of 2017, only one build has leaked, but others may exist. Many major enhancements were planned for Neptune, including Activity Centers, which were HTML and JavaScript-based applications meant to replace Win32 apps. Early builds of Millennium (which was eventually released as Windows ME) usually contained files from Neptune; the purpose of these files was to help bridge the gap between NT and the 9x kernel.
A successor called Windows Codename Triton was mistaken as a service pack, but as shown in Antitrust documents, it was actually a successor to Neptune which would bring minor updates and enhancements.
Original roadmap
The following planned release dates come from PX07297.
RTM: March 2000
SP1: May 2000
SP2: September 2000
SP3: January 2001
SP4: July 2001
SP5: March 2002
Other Neptune SKUs
Microsoft Anti-trust documents from Neptune era indicate that Neptune was to have not only one, but several editions, namely "Entry-Level", "Standard" and "High-End", which could translate into these modern SKUs: "Starter", "Home" and "Professional / Server". It is unknown what these editions would actually become, if Neptune was ever released.
There are also several strings in file USETUP.EXE from Neptune build 5111.1 that clearly mention "Neptune Server". These references could be leftovers from Windows 2000, if all "2000" strings were simply replaced with "Neptune" during the rebranding process.
Timeline
NOTE: some of the information provided in this timeline is based only on rumours or unconfirmed build numbers. Therefore, this timeline can not be taken as a reliable source of information.
Early July 1999: Neptune build 5.50.5022.1 is compiled
Around 1999-09-20: Neptune build 5.50.5067.1 is compiled
Around 1999-10-26: Neptune build 5.50.5086.1 is compiled
Around 1999-11-08: Neptune build 5.50.5095.1 is compiled
Around 1999-11-17: Neptune build 5.50.5099.1 is compiled
Early December 1999: Microsoft announced the details of Windows Neptune to a few testers
1999-12-10: Neptune build 5.50.5111.1 is compiled
Mid-December 1999: Neptune builds 5.50.5116.1 and 5.50.5117.1 are compiled
1999-12-27: Neptune build 5.50.5111.1 is sent to selected testers
2000-01-21: Paul Thurrott reveals that both Neptune and Odyssey are cancelled and will be replaced by Whister.
2000-03-20: Windows Whistler build 2211.main.000309-1512 leaks, though it looks a lot like Neptune it's an entirely new project
Builds