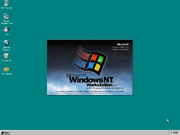 Windows NT 4.0 (codenamed Cairo & Shell Update Release) is the successor to Windows NT 3.51 and the first version of Windows NT to feature the Windows Explorer interface introduced in Windows 95. It is the last version of Windows NT to include NT in its product name.
It should not be confused with Windows codename Cairo, of which two builds are known and leaked: 854, and an alternate release of 1175.
The Windows Desktop Update further enhances the shell by incorporating features from Windows 98.
Editions
There are several editions of Windows NT 4:
Workstation
Server
Server Enterprise Edition
Terminal Server (Codename: Hydra)
Service Packs
There were 6 service packs released for Windows NT 4. There was a 7th Service Pack Planned, but it was canceled and Update Rollup 6a was released instead.
Builds
Pre-Beta 1
Beta 1
Beta 2
Pre-Release Candidate 1
Release Candidate 1
Release Candidate 2
Pre-RTM
RTM
Service Pack 1
Service Pack 2
Service Pack 3
Service Pack 4
Service Pack 6 without a
Service Pack 6a
Post-Service Pack 6a Security Rollup
Terminal Server Edition
The Terminal Server Edition was Launched in 1997, Since until Final Release in September 1998, It included Service Pack 3.
It also can be Upgraded Citrix WinFrame 1.8 (NT 3.51 Terminal Server) to NT 4.0 TSE.
Beta 1
Beta 2
Terminal Server Edition RTM
Service Pack 4
Service Pack 5
Service Pack 6
Source Leak
For detailed information, see the main article: Windows Source Code
In 2004, a large portion (approximately 80-95%) of the Windows NT 4.0 (With Service Pack 3) source code was leaked. Further investigations by Microsoft found that the source was leaked from Mainsoft, a software porting company (which ported Internet Explorer to Unix before such edition was dropped).
In 2010, The source was successfully compiled by Kenneth, a BetaArchive and Windows Projects Community member, producing about 318MB of binaries.