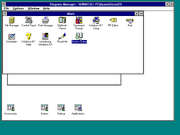 Windows NT 3.5x is a family of NT-based operating systems released by Microsoft. These versions of Windows are the last of the NT series with the Windows 3.1-style user interface, as Windows NT 4 would introduce the Windows 95-style shell.
Notably, an early version of the Windows 95-style shell is available for Windows NT 3.51 via the NewShell update. NewShell replaces Program Manager and adds a new desktop, task bar, and user interface graphics.
Builds
Windows NT 3.5
Windows NT 3.5 was released on 1994-09-21. It is the first version to acquire the edition names of 'Workstation' and 'Server'. This version of Windows NT cannot be installed in a processor newer than the original Pentium.
Pre-beta
Beta 1

3.5.612.1
Beta 2
3.5.687.1
Release Candidate 1

3.5.756.1
Release Candidate 2

3.5.782.1
RTM

3.5.807.1
Post-RTM

3.5.807.1 (Korean Beta)

3.5.854.1
Windows NT 3.51
Windows NT 3.51 is the first release of Windows NT with support for the PowerPC architecture. PCMCIA support, NTFS file compression, replaceable GINA and 3D support in OpenGL.
Beta
3.51.889.1

3.51.944.1
3.51.993.1
3.51.1002.1
Release Candidate

3.51.1024.1
3.51.1037.1
3.51.1047.1
RTM
Post-RTM

3.51.1057.1 (Japanese Beta)
Service Pack 1

3.51.1057.2
Service Pack 2

3.51.1057.3
Service Pack 3

3.51.1057.4
Service Pack 4

3.51.1057.5
Service Pack 5

3.51.1057.6
Shell Technology Preview (NewShell)

3.51.1054 STP