Jurassic World: Dominion Dominates Fandom Wikis - The Loop
Play Sound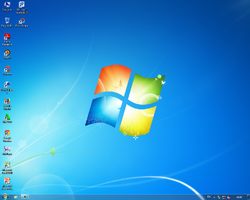 Windows 7 is an operating system developed by Microsoft, released to manufacturing on 2009-07-22 and general availability on 2009-10-22. It is the eighth operating system in the Windows NT operating system line. It is intended to fix many of the issues users perceived with Windows Vista. Windows 7 has NT kernel version 6.1, making it a minor update to Windows Vista. Windows 7 improved performance on older hardware, while also improving many areas of the Aero user interface. It is one of Microsoft's most popular operating systems, still running on 11.94% of desktop and laptop computers as of January 2022.[1]
It replaces Windows Vista and was replaced by Windows 8. Mainstream support ended on 2015-01-13, while free extended support ended on 14 January 2020. For Professional and Enterprise users, paid extended support will end on 2023-01-10.
A Pre-RTM build, 7600.16384, was speculated to be the final version of the product, but had a flaw in Internet Explorer 8 which prevented it from shipping.
This is the last version of Windows that supports processors without PAE, SSE2 and NX (Update KB4088875 removes support for processors without SSE2); and the last version of Windows that received a Service Pack from Microsoft.
Name
The name "Windows 7" comes from the version number of Windows Vista (6.0) being incremented by one to get 7.0. This was the project's code name and was eventually used as the final name as well.[2]
Contrary to popular belief, the previous code names of Blackcomb and/or Vienna refer to an earlier effort intended to succeed Windows Vista, which was canceled in early 2007 due to time and feature constraints, and was instead replaced with the Windows 7 project.[2]
Editions
The editions for Windows 7 are the same as Vista, Enterprise SKU was Included Windows Media Center, which from Windows Vista, it does not include Windows Media Center.
Windows 7 was shipped in the following SKUs:
Starter is a low-end edition available only through OEMs, who usually preinstalled it on netbooks, tablets and cheap laptops. It does not include the

Windows Aero

theme and doesn't support changing the desktop wallpaper and visual styles. Supports 2 GB of RAM at most and comes in x86 version only.
Home Basic is available in emerging markets, such as India, Mexico, Brazil, Russia and others. It includes the Aero theme, but some of its features are disabled. This edition came in x86 and x64 versions.
Home Premium is a standard edition aimed at the home customer segment and is most commonly preinstalled on new computers and laptops. It includes the fully featured Aero theme and Windows Media Center.
Professional replaced Vista's Business edition and includes all features of Home Premium. It adds the ability to join a domain and other features commonly used in business environment. It supports activation over a KMS server.
Ultimate and Enterprise are the top-level editions of Windows 7. They are identical with regards to supported features, with both editions including all functionality of Professional and adding MUI support. The only difference between the two is that Ultimate was available directly to end customers via OEM and retail channels, can be activated only by WPA and have premium games enabled by default, while Enterprise was only offered to businesses through Software Assurance, supports activation over a KMS server and has the premium games disabled.
All of the above editions are offered in N and KN variants without Windows Media Player in order to meet European and Korean legislation, respectively. An E variant was also planned, which would also remove Internet Explorer, but in the end the variant was not released and the Browser Choice ballot screen was introduced as a replacement to satisfy the European Union's demands. Some builds leading up to the RTM are available in this variant.
Main changes
Interface
Although very similar to Windows Vista, Windows 7 brings many enhancements to the desktop experience.
The Taskbar has gotten a major overhaul, with larger buttons, hidden labels, and the ability to pin applications directly to it. Pinned and running applications can also be rearranged across the Taskbar. By hovering over an application, a window preview will appear. Moving the cursor over the preview will allow you to get a better view of the running application. The preview also lets you close the application, view its label, or adjust its media controls (if supported). The ability to hide icons from the system tray has been added, and can be accessed from a dedicated taskbar flyout. The Show desktop icon, last seen in Windows 98 Build 1415 and Windows 2000 Build 1796.1, has been re-added. Its functionality is mostly the same, with the addition of Aero Peek. By hovering your mouse over the button, you can get a preview of your desktop.
A new feature, Jump Lists, allow users to easily get back to what they were doing by showing recently accessed files and websites. These can be pinned to the top of the Jump List to be easily accessible later. Jump Lists can also include Tasks, which are actions the application can perform. Jump Lists can be accessed by right clicking its icon on the Taskbar, as well as from within the Start menu.
The Start menu is very similar to its Windows Vista counterpart, with a customizable shutdown toggle replacing the lock/sleep toggles from before. The classic Start menu however, has been removed.
The Windows Sidebar has also been removed. Because of that, Windows Gadgets can now be placed freely across the desktop, and can be easily resized. A Windows Media Center Gadget has been added, while the stocks and note Gadgets have been removed.
A new multitasking feature for application known as Aero Snap has been added. With Aero Snap, you can easily snap two windows side-by-side on the desktop. To snap an application, simply move it to either the left or right edges of the screen.
Windows Explorer introduces Libraries, which can help users organize frequent files types to be accessed from one place. Documents, Music, Pictures, Recorded TV, and Videos are added by default, but users can create their own custom Libraries if needed. Homegroup is also a new feature, which allows users to connect to other PCs on their network and share files between them. The Navigation Pane has been simplified, and shows frequent places within the System instead (Favorites, Libraries, Homegroup, My Computer, and Network). However, the classic Windows Vista view can be re-enabled by selecting "Show all folders" within Folder Options. The Command Bar and Details Pane have also been redesigned, but functions about the same as in Windows Vista.
The Control Panel receives a redesigned start page, which removes the sidebar from previous version of Windows. The sidebar only appears when a user clicks into a category or page. Classic view has been reworked, and can be accessed by selecting "Large Icons" or "Small Icons" within the "View by:" menu. The Action Center has been added under the new "System and Security" category. This interface replaces the Security Center. It functions very similarly, while also giving suggestions every so often. You can also use it to open the troubleshooters. Personalization settings have been overhauled, with an entirely new experience. Themes are upfront and take up most of the space, rather then being a small Windows XP-styled applet. Many new themes, wallpapers, and colors can be selected from this view. Display settings have been moved out of Personalization, and now have its own dedicated section within the Control Panel. There, you can change DPI and resolution settings much easier than in Windows Vista. Many more pages have been added as well, such as Getting Started, Windows Firewall, Devices and Printers, Taskbar Icons, and Homegroup.
Applications
Many changes to built-in Windows applications can be seen with this release.
Paint

and Wordpad have been updated to use the Ribbon interface found in

Office 2007

. Paint also gets new brush types, and shape tools.

Calculator

has been updated, and features a new design and layout. Unit converters have also been added in.

Internet Explorer 8

adds suggested websites, relocated the favorites bar, and improves compatibility.

Windows Media Player 12

features a new design and layout.
Windows Easy Transfer has been simplified.

Windows Media Center

has updated UI elements.
XPS Viewer adds native support for viewing XPS files.
Sticky Notes replaces the notes Gadget, and is much easier to use than its Windows XP/Vista counterpart.
Many Ease of Access applications, such as the magnifier and on-screen keyboard, have been overhauled.
Many Windows Vista apps, such as Windows DVD Maker and

Help and Support

, have been updated to fit the design of Windows 7.
The Welcome Center Control Panel applet from Windows Vista has been renamed to "Getting Started" featuring less links and it no longer opens automatically when Windows 7 boots up.
Many built-in Windows Vista apps, such as

Windows Mail

, Calendar, and

Movie Maker

, have been removed.
The

Windows Ultimate Extras

which were introduced with the Ultimate edition of Windows Vista as an add-on pack that included games, security features and other extras have been removed from the Ultimate edition of Windows 7 and are removed when upgrading from an installation of Windows Vista Ultimate that had the extras installed and the associated Control Panel and Welcome Center entries have also been removed.
Hardware Compatibility
Windows 7 is fully compatible with Intel Skylake and earlier. Later processors aren't officially supported as Windows Update is disabled and Intel Graphics do not work, though users have come up with hacks to get both working. In some cases, integrating USB 3.0 drivers into the installation media may be necessary in order to successfully install Windows 7 on modern machines due to lack of pre-integrated USB 3.0 support, which wasn't introduced until Windows 8. The P-cores and E-cores on Intel Alder Lake processor were incorrectly identified as dual processors in Windows 7.
Build 6519 introduced a feature internally known as "drift correction", which resolves issues related to CPU clock circuit timing that can potentially prevent services from starting up correctly. Clock drift/timing issues plague Windows Vista on Haswell and newer processors from Intel, where the OS will often not boot up successfully or boot up with many services having failed to start due to drift. Hobbyists are figuring out how to port this feature to Windows Vista to resolve this problem.
Builds
Pre-Milestone 1
Milestone 1
Milestone 2
Milestone 3
Pre-Beta
Beta
Pre-RC
RC
Pre-RTM
RTM Escrow
RTM
Service Pack 1 Beta
Service Pack 1 RC
Service Pack 1
Update RTM
Update SP1
Post-RTM
Mod Editions
Windows 7 has included Mod Editions, There was debated some Authors to making Project.
Amit
Greifi Grishnackh (Unattended Windows Project)
A Project for Windows Ice XP, Called UWP.
Benjamin
References
External links