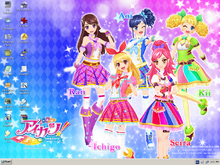 Back to ReactOS/Nightly Builds
---
ReactOS 0.5-SVN r73352 is the Trunk/Nightly Build for 0.5.0 Series, it was Created at 2016-11-22.
A Lot Major Failed Testing Program, such as WinSCP, IrfanView Setup for latest version, It will having Experimental Bugs and Laggy to use this Build.
It is Recommended to use Portable Program, which it is highly recommended.
Tests for 0.5-SVN r73352
7-Zip 15.00: Works - Install & Works OK, Minor Up Button & Address Bar is white
Ghost32 11.5: Works - It worked but i don't have clone Disk to make Ghost Files.
AkelPad 4.4.3: Works - Install & Works Fine, can be Saved ".txt" File.
Resource Hacker FX 3.6: Works - Minor Issues not changing Font, can Compile and Save.
InfraRecorder 0.50: Works - Works Fine, but on About it was issue for Black Color Shadow.
IrfanView v4.22: Works - Works Fine Without Setup, Can be used to see Image, with Plugins.
PowerISO v2.8: Works - Icon for Create ISO is not found, Works fine to use.
Drive Snapshot v1.39 (2008-08-13): Works - Only the problem is by clicking Backup Disk to file not work, use Mini XP to work.
WinRAR 5.40: Works - Installs & Runs OK.
Mstsc 7.0 (Win7 Build 7100 RC): Works - At About Mstsc, The Icon is not displayed Icon.
Pageant SVN (2016-11-20): Works - Works OK.
Putty Key Generator (2016-11-20): Works - Works OK, can load existing Private Key.
Screenshots