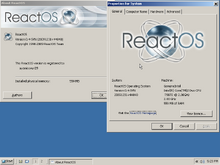 Back to ReactOS/Nightly Builds
---
ReactOS 0.4-SVN r44840 is the Trunk/Nightly Build for 0.4.0 Series, it was Created at 2009-12-31.
This Build Revision was almost New Year 2010, Despite some Bugs that included are not working like PowerISO.
Tests for 0.4-SVN r44840
2017-01-08
7-Zip 9.14 Beta: Works - Installs & Runs OK.
Drive Snapshot v1.37 (2005-12-22): Works - Only the problem is by clicking Backup Disk to file not work, use Mini XP to work.
WinRAR 3.00: Works - Installs & Runs OK.
AkelPad 3.7.4: Works - Installs & Runs OK, Saving txt File Works.
Opera 8.54: Works - Worked but the CPU will over 100% usage, End the Process "opera.exe".
gBurner 2.7: Works but Broken - The Menu Bar is Bug, so it works until right click on explorer nothing, useless.
Putty SVN 2006-01-06: Works - Issues for Basic Options PuTTy Session transparent, Works OK.
PowerISO v2.1: Broken - Gives Error "The instruction at "0x01291c7f" Referenced memory at "0x4d292676". The Memory could not be "Written"."
Screenshots