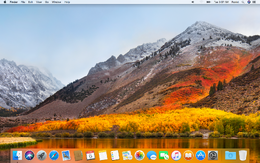 macOS is a series of operating systems developed by Apple for their Mac platform. macOS is the second-most commonly used operating system after Microsoft Windows. It first became publicly available in 1984 with the release of the Macintosh 128k. For a build list see Mac OS Buildlist.
The classic Mac OS was originally written for the Motorola 68k architecture. The 68k architecture was used from 1984 to 1991, after which Apple transitioned to PowerPC. PowerPC would be used until the classic Mac OS's discontinuation in 2002. Classic Mac OS was based on a simple kernel design, which eventually became too limited and crash prone for applications. In response, Apple bought NeXT and used NeXTSTEP as a base to develop Mac OS X. Mac OS X continued PowerPC support until 2006, when Macs started shipping with x86 (Intel) processors. Support for PowerPC in Mac OS X was dropped in 2009.
The Classic Mac OS can run standalone, and under Mac OS X using the Classic system layer. Only certain versions of Mac OS 9 can run under the Classic system layer, and the layer itself was dropped after Mac OS X Tiger.
PearPC is a useful emulator that can run PowerPC builds of Mac OS X under Windows or other x86 operating systems.
Timeline
Macintosh System Software & Mac OS
The original Macintosh System Software is based on the Lisa OS and UI concepts from Xerox PARC. It uses a monolithic architecture, but lacks support for memory management, protected memory, access controls, and conflict-free extensions. Only one application at a time could be supported under System Software until version 5, when MultiFinder was introduced.
In 1997, Apple rebranded the Macintosh System Software to Mac OS. Alongside the new name, classic Mac OS dropped support for 68k Macintoshes. Mac OS would continue to be developed until the introduction of Mac OS X, after which Apple only delivered minor updates to the classic Mac OS. The final minor updates were designed to easy the transition to OS X. Carbon, an API introduced with Mac OS 8, works as the transitional API for classic Mac OS and Mac OS X applications.
"Mac OS (System Software)"

Name
Versions
Release Date(s)
Finder Versions
Twiggy/Sony Software
4.4-7.1
Released in 1983
1.x

System Software 0.x

0.85-0.97
Released in 1983-1984
None/Unknown

System Software 1.x

1.0-1.1g
Released in 1984
None/Unknown

System Software 2.x

2.0-2.1
Released in 1985
4.x & 5.x

System Software 3.x

3.0-3.4
Released in 1986-1987
5.x

System Software 4.x

4.0-4.3
Released in 1987
5.x

System Software 5.x

5.0-5.1
Released in 1987
6.x

System Software 6.x

6.0.0-6.0.8L
Released in 1988-1992
6.x

"Mac OS"

Name
Versions
Release Date(s)
Codenames

Mac OS 7

7.0-7.6.1
Released in 1990
Big Bang, Superbeta, Cube-E, Shuswap, Capone, Jirocho, Mozart, Son of Buster, Unity, Zeus, Gory, Harmony, Ides.

Mac OS 8

8.0-8.6
Released in 1997
Copland, Tempo, Bride of Buster, Sequoia, Snowman, South Park, Allegro, Horatio, Veronica, Sarah.

Mac OS 9

9.0-9.2.2(9.3?)
Released in 1999
Sonata, Minuet, Fortissimo, Moonlight, Limelight, LU1.
Mac OS X / macOS
Mac OS X is the current incarnation of Mac OS. The first version released was Mac OS X Server in 1999. Unlike the classic Mac OS, Mac OS X is based on NeXTSTEP (OPENSTEP) and uses its frameworks and architectures.
In 2016, Apple began to use the macOS moniker to brand Mac OS X alongside their other operating systems (watchOS, tvOS, iOS).
| Name | Kernel Version | Codename | Notes |
| --- | --- | --- | --- |
| Mac OS X Server 1.0 | | Rhapsody | Released in March 1999; the first public release of OS X without the Aqua interface |
| Mac OS X Public Beta | Darwin 1.2.1 | Kodiak | Released in September 2000; first version to include the Aqua interface |
| Mac OS X 10.0 (Cheetah) | Darwin 1.3.1 | Cheetah | Released in March 2001 |
| Mac OS X 10.1 (Puma) | Darwin 1.4.1 / 5 | Puma | Released in October 2001 |
| Mac OS X 10.2 (Jaguar) | Darwin 6 | Jaguar | Released in August 2002 |
| Mac OS X 10.3 (Panther) | Darwin 7 | Pinot | Released in October 2003 |
| Mac OS X 10.4 (Tiger) | Darwin 8 | Merlot (PPC) / Chardonay (Intel) | Released in April 2005 (PPC) / January 2006 (Intel) |
| Mac OS X 10.5 (Leopard) | Darwin 9 | Chablis | Released in October 2007 |
| Mac OS X 10.6 (Snow Leopard) | Darwin 10 | Snow Leopard | Released in August 2009 |
| Mac OS X 10.7 (Lion) | Darwin 11 | Barolo | Released in July 2011 |
| Mac OS X 10.8 (Mountain Lion) | Darwin 12 | Zinfandel | Released in July 2012 |
| Mac OS X 10.9 (Mavericks) | Darwin 13 | Cabernet | Released in October 2013 |
| Mac OS X 10.10 (Yosemite) | Darwin 14 | Syrah | Released in October 2014 |
| Mac OS X 10.11 (El Capitan) | Darwin 15 | Gala | Released in September 2015 |
| macOS 10.12 (Sierra) | Darwin 16 | Fuji | Released in September 2016 |
| macOS 10.13 (High Sierra) | Darwin 17 | High Sierra | TBD |